Spring 2020
CF3 PRO CARBON TRIMMER LINE
STIHL's CF3 Pro Carbon Line is a favourite amongst both homeowners and professional users. With its polyamide blend and carbon reinforced core, the CF3 line lasts three times longer than conventional trimmer line. With various diameters and spool sizes to choose from, it΄s easy to find the CF3 line that is right for your job. Engineered and manufactured by STIHL to the very highest standards of quality and performance, pick up your CF3 Pro Carbon Line today at your local STIHL Dealer.
We recently caught up with James, a homeowner from Ontario, who was able to answer a few questions regarding his experience using STIHL's CF3 Pro Carbon Line.
How long have you been using STIHL's CF3 carbon fibre trimmer line?


Approximately the last 2 years.

Does the CF3 line last longer than other brands you may have used in the past?


It definitely does.

Do you find the CF3 line easy to work with and change?


I wouldn't say it is any easier to work with or change than other line, except that you have to change it a lot less which is very beneficial.

What type of growth are you generally cutting with the CF3 line? Would you consider the CF3 line versatile with regards to what it is able to cut?


The growth I am cutting is mainly grass around the driveway and side walk. Several times a year I trim longer, thicker weeds along the hedge row. I do consider it a very versatile line because it does make quick work of all types of growth.

The CF3 line is generally priced higher than regular trimmer line. Do you feel it is worth the extra cost?


Due to the fact it does last longer than the other lines I have used, I would say it is worth the extra cost. I also like the fact that I can use one line to cut many different types of weeds and thick grass.

Would you recommend the CF3 line to friends or family?


I would and in fact already have recommended to friends and family.

On a scale from 1 to 10, with 1 being not very satisfied and 10 being very satisfied, how would you rate the CF3 carbon fibre line overall?


I would rate it an 8.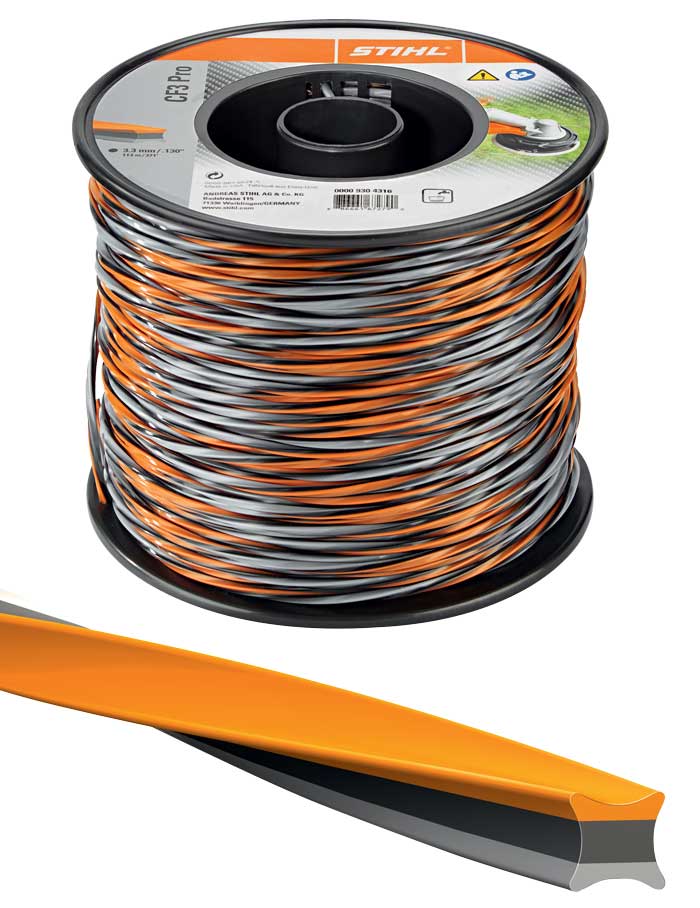 PART NUMBER
DESCRIPTION
0000 930 4318
.080 – ½ LB

NEW

0000 930 4319
.080 – 1 LB

NEW

0000 930 4300
.095 – ½ LB
0000 930 4303
.095 – 1 LB
0000 930 4313
.095 – 3 LB
0000 930 4320
.095 – 5 LB

NEW

0000 930 4301
.105 – ½ LB
0000 930 4304
.105 – 1 lb
0000 930 4314
.105 – 3 LB
0000 930 4321
.105 – 5 LB

NEW

0000 930 4311
.130 – 1 LB
0000 930 4316
.130 – 3 LB
0000 930 4323
.130 – 5 LB

NEW