Fall 2019
THE HT 131
Gas Telescopic Pole Pruner
STIHL Limited is pleased to announce the re-introduction of the HT 131 with the previous style HT attachment. STIHL has taken the unprecedented approach of retrofitting the old HT attachment design to the new HT 133 power head. This direction is the result from feedback received by you, our customer, to allow time for our engineering department to modify and refine the current HT shaft design. It should be noted that this is a short-term solution; the HT 133 will be re-introduced once the new cutting attachment has been enhanced to meet current customers' requirements. The result is a new high-performance engine with the tried, tested and true shaft design of the older HT units. This combination is sure to be a great success as industry professionals have always sworn by the old HT shaft design, but love the power of the new engine configuration found on the current HT 133.
HT 131
Displacement
36.3 cc
Power Output
1.4 kW
Weight†
7.6 kg/16.7 lb
Bar Length
12"/30.5 cm
Overall Length
8.9-12.8' (270-390 cm)
†Weight without fuel.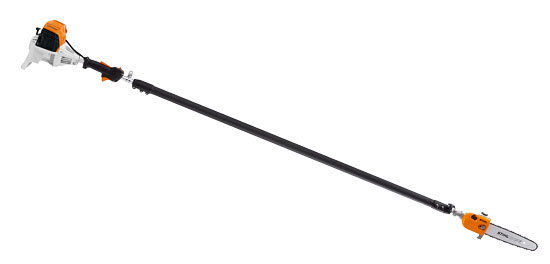 the HTA 85
Battery Pole Pruner
Tree care professionals now have a quiet, zero-exhaust emission, low vibration option for trimming overhead branches. The HTA 85 lithium-ion battery pole pruner offers lightweight, balanced cutting thanks to its brushless, commercial-grade, high-torque electric motor. Part of the STIHL AP series, the HTA 85 offers long runtimes – over three hours with the AR 3000 backpack battery – without gradual drop in performance. The HTA 85 telescopes to 12.8 feet (390 cm) for those tall tree-trimming tasks and requires minimal maintenance since it has no engine or filter. Best of all, there's no gasoline cost and no restrictive power cords.
HTA 85
Voltage
36 V
Weight†
4.5 kg/9.9 lb
Overall Length
12.8' (390 cm)
Battery Runtime*
68 min (with AP 300 S)
125 min (with AR 1000)
230 min (with AR 3000)
†Weight without battery.
*Battery run and charging times are estimates and may vary depending on application.