Fall 2013
As the world's best-selling cut-off machine brand, we know that a perfect match between your cut-off machine and its cutting wheel is essential. That's why STIHL invests so much expertise in developing heavy-duty diamond cutting wheels. And the results are crystal-clear: outstanding handling, a long service life and unbeatable cutting performance – factors that can make all the difference on a construction site.
STIHL Diamond Cutting Wheels
STIHL's diamond cutting wheels last up to 400 times as long as synthetic resin cutting wheels, making them extremely cost-efficient, plus they deliver top cutting performance in even the toughest conditions.
Other Features Include:
Highest-grade diamonds
Special segment manufacturing process (HDS sintering)
Designed to perfectly match STIHL cut-off machines
Tensioned main blade for optimum smoothness
Vital Stats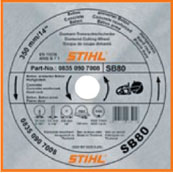 The labels on STIHL cutting wheels show all the key data you need when working with a cutting wheel and cut-off machine. Clear information tells you at a glance what applications the cutting wheel can be used for. Abbreviations indicate the material(s) that can be cut and figures show the wheel's performance class. The diameter of the wheel, the size of its spindle hole and its maximum permissible wheel speed are also clearly displayed. This labeling helps you select the right wheel for each job, ensuring optimum performance.
Smooth Operator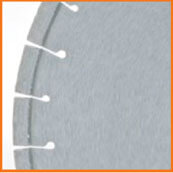 The main blade of each diamond cutting wheel is made of hardened heat-treatable steel, and is specially tensioned, as can be seen by the roller marks. The result is a stable cut through the toughest materials. Engine power is transferred directly to the cutting segments which in turn enables smooth and precise cutting, and a high removal rate.
Heavy Duty, Ultra-hard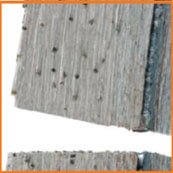 Only the highest-grade industrial diamonds are used in the segments of STIHL cutting wheels. A specially developed segment manufacturing process (HDS sintering) ensures that the diamonds are uniformly distributed and firmly embedded in each segment. This guarantees outstanding cutting performance, fast cutting progress through the material and long cutting wheel service life. In nearly all our cutting wheels the segments themselves are laser-welded to the main blade. So the cutting wheel can stand up to the toughest challenges at a reliable top speed of up to 100 m/s.
Diamond Cutting Wheels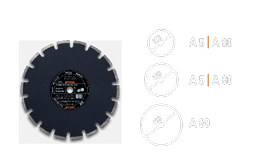 ASPHALT (A)
Cutting wheel for asphalt, fresh concrete, abrasive concrete and sandstone.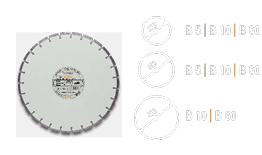 CONCRETE (B)
Cutting wheel for concrete, clay bricks, exposed aggregate concrete, as well as, reinforced concrete, and general construction materials.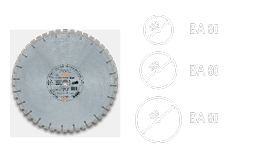 CONCRETE/ASPHALT (BA)
Universal cutting wheel with a wide area of applications and long service life. With its specially aligned segments this wheel cuts through reinforced concrete and concrete blocks just as easily and cleanly as through softer materials like asphalt.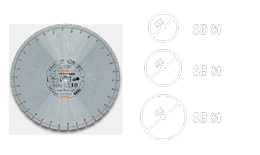 HARD STONE/CONCRETE (SB)
Extremely fast cutting wheel for cutting everything from brick, concrete and clinker to granite and ductile cast iron pipes. The extremely robust and temperature-resistant material composition of the wheel means it's capable of cutting construction steel with a thickness of up to 10 mm and makes it suitable for emergency clearing jobs.

Synthetic Resin Cutting Wheels
STIHL synthetic resin cutting wheels are suitable for a wide range of applications including cutting through building and construction materials such as steel, asphalt and stone.
Features:
High-quality grit materials for super-fast cutting
Optimized bond matrix for consistent performance
Multi-layered fiber-glass reinforcement for increased strength and durability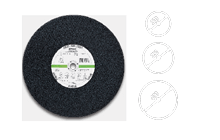 STONE
Cutting wheel for general construction use. Cuts all stone material, as well as, aluminum and other non-ferrous metals.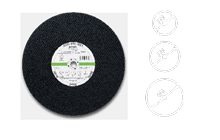 STEEL
Tried-and-tested, extremely sturdy cutting wheel for use in construction or in metal processing operations. Cuts construction steel, structural steel, reinforcement bars and steel girders.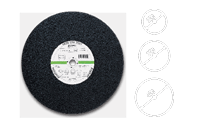 ASPHALT/DUCTILE CAST IRON
Special cutting wheel for road construction and pipeline engineering. Cuts asphalt, as well as, ductile cast iron pipes.