Fall 2022
HEXA SAW CHAIN + HEXA FILE
THE STIHL EXCLUSIVE PROFESSIONAL CUTTING SYSTEM
With the patented Hexa cutting system consisting of the Hexa saw chain and Hexa file, STIHL is setting new standards in terms of performance sharpening and service life. Are efficiency and time savings particularly important to you in your day-to-day work? Then Hexa is the right solution for you! Hexa saw chains not only feature impressive cutting performance but also straightforward sharpening. The shapes of the cutting teeth and file are ideally matched to each other, and enable particularly straightforward and rapid sharpening with an almost perfect result. Compared with other saw chains such as the 3/8" RS, the Hexa also needs re-sharpening much less frequently, resulting in a longer service life. Try the new STIHL Hexa cutting system today and see for yourself!


WATCH VIDEO: Chain sharpening with the USG
WATCH VIDEO: Introduction to Hexa chain and Hexa file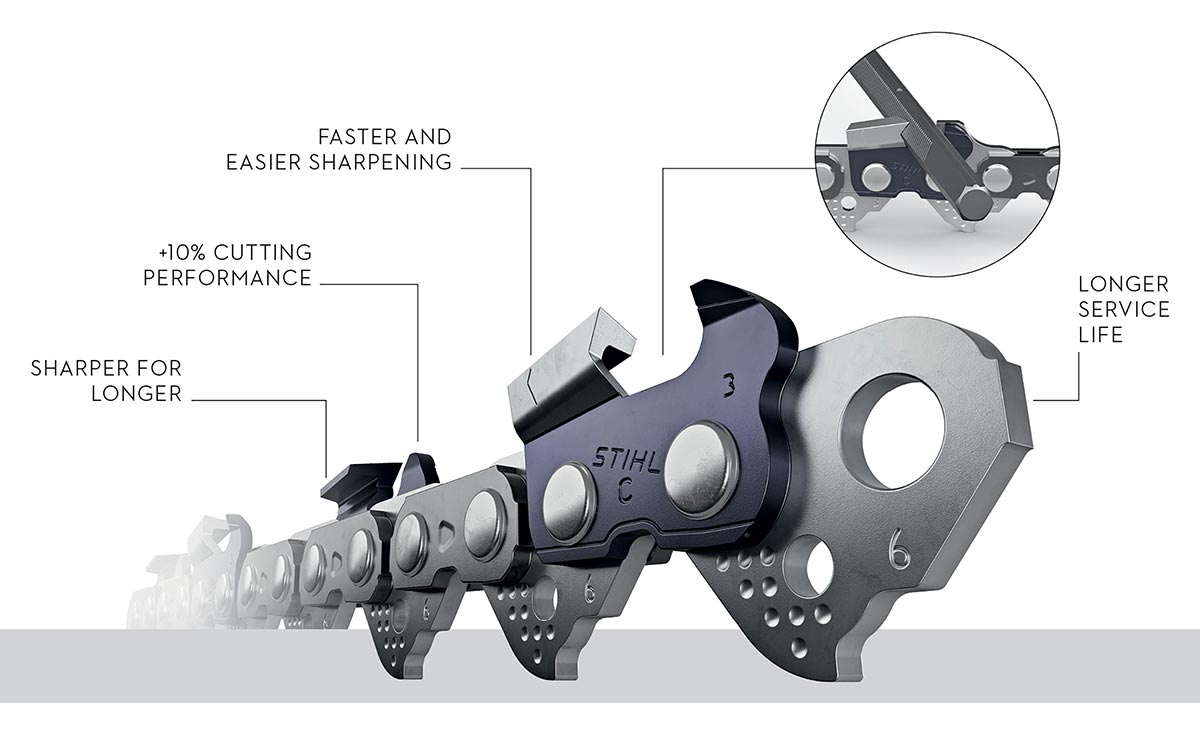 +10% CUTTING PERFORMANCE
In conjunction with the narrow kerf, the special Hexa profile of the 3/8" Rapid Hexa saw chain gives a 10% improvement in cutting performance compared with the 3/8" Rapid ­Super saw chain – for maximum output during felling work.

SHARPER FOR LONGER
As the shapes of the file and cutting tooth are perfectly matched to one another, the Hexa saw chain can be perfectly sharpened, cuts quicker, and stays sharp for significantly longer.

QUICKER AND EASIER SHARPENING
The optimum fit of the Hexa cutting tooth and Hexa file also makes sharpening much quicker and easier than with a round file. The ideal sharpening angles are achieved every time the tool is sharpened.

LONGER SERVICE LIFE
As the 3/8" RH/RHF saw chain needs sharpening less often, its service life is also correspondingly longer.