Spring 2021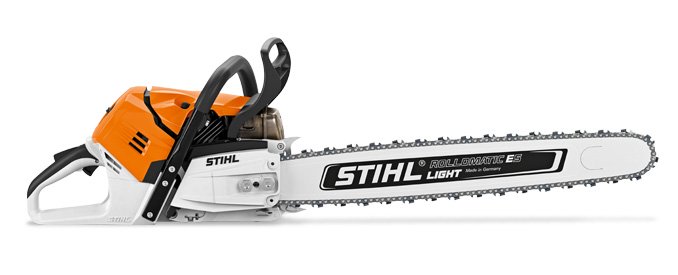 The MS 500i is the first chain saw in the world to feature electronically controlled fuel injection, making it a true innovation. When it comes to professionally harvesting large trees, this high-torque machine cuts through wood with ease. Rapid acceleration and dynamic pivot behaviour mean the MS 500i is perfect not only for felling and cutting into lengths, but also limbing. With sensor-controlled fuel metering it is an excellent starter with outstanding engine performance, regardless of the altitude and ambient temperature. There's also no starting lever, which makes starting very easy under all conditions. Its engine technology, which is revolutionary for chain saws, and resulting intelligent lightweight construction, results in the best power-to-weight ratio on the market at 1.24 kg/kW.

ONE MACHINE – MANY ADVANTAGES
From 0 to power.
• With its innovative technology, the MS 500i achieves rapid acceleration from 0 to 100 km/h in an unbelievable 0.25 seconds, enabling this high-torque machine to provide power immediately.
• Its intelligent lightweight construction promotes effortless, ergonomic working. Its optimized design with a lightweight sprocket cover, more compact engine unit, flywheel with a low design height and a reduced-weight crankshaft adapted to the weight of the flywheel, makes work significantly more comfortable.
• Its high engine power, dynamic pivot behaviour enabled by the compact lightweight flywheel and extraordinary acceleration, enable you to make quick progress with your work.
• The MS 500i's low total weight, paired with good pivot behaviour, results in optimal guidance when limbing. The geometry of the bumper spikes
provides additional support in this respect.
• The captive nuts are individually connected to the sprocket cover so that they don't get lost in the process of replacing the cutting attachments.
STIHL INJECTION TECHNOLOGY
Sensors measure air pressure and internal and external temperature, and pass information onto the control unit. The control unit can use the identified values to determine the optimum fuel quantity and ignition timing. As a result, fuel dosing is assured through the opening and closing of the injection valve.
SPECIFICATIONS
DISPLACEMENT
79.2 CC
POWER OUTPUT
5.0 KW
WEIGHT ①
6.2 KG/13.7 LB
① Weight with powerhead only.