Fall 2018
There's something about the clean lines, defined edges and the uniform precision of a well-trimmed hedge. With the assistance of a STIHL hedge trimmer, maintaining those leafy shrubs will feel less like physical labour and more like creating a work of art. What makes a STIHL hedge trimmer so special? Just like a perfectly sculpted hedge, the NEW HL 91 K (0°) is designed without excess bulk, leaving only balanced beauty behind.
Keep hard-to-reach hedges looking good with the HL 91 K (0°) long-reach hedge trimmer. Built for professional use, this mid-length hedge trimmer is lightweight which allows the machine to be controlled effortlessly and precisely. It features a fixed-angle, 24" cutting blade which assists with maintaining topiary and ornamental hedges. Easy to operate, the HL 91 K (0°) contains a powerful, fuel-efficient, low-emission engine. Its compact design provides excellent manoeuvrability and includes an innovative ergonomic rubberized control handle with ECOSPEED throttle control, allowing for variable speed regulation. This convenient tool is designed to help professionals work longer with reduced fatigue. The HL 91 K (0°) long-reach hedge trimmer puts the edge in hedge. It's a clear-cut winner.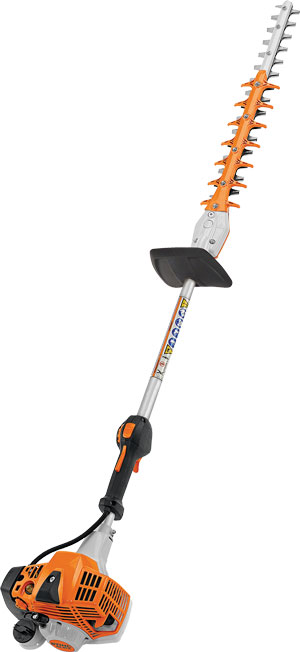 HL 91 K (0°)
Displacement
24.1 cc
Power Output
0.9 kW
Weight†
5.4 kg/11.9 lb
Overall Length
66.9"/170 cm
†Weight without fuel.