Spring 2020
INSERT BATTERY, SQUEEZE THE TRIGGER AND GO!
NEW
RMA 460 V
BATTERY SELF-PROPELLED
LAWN MOWER

The RMA 460 V is the first self-propelled lawn mower in the AK battery range system, providing users a full line of products to complete outdoor tasks. This lawn mower is compatible with the full range of AK batteries, however we reccommend the AK 30 battery, providing users with performance options based on property size. With a deck width of 19", the RMA 460 V is highly manoeuvrable for quick and efficient grass cutting with each pass. Its 60 L grass catcher allows for more grass cutting and less stopping, while the handlebar is easily adjustable for user comfort. The RMA 460 V is perfect for small to medium-sized lawns.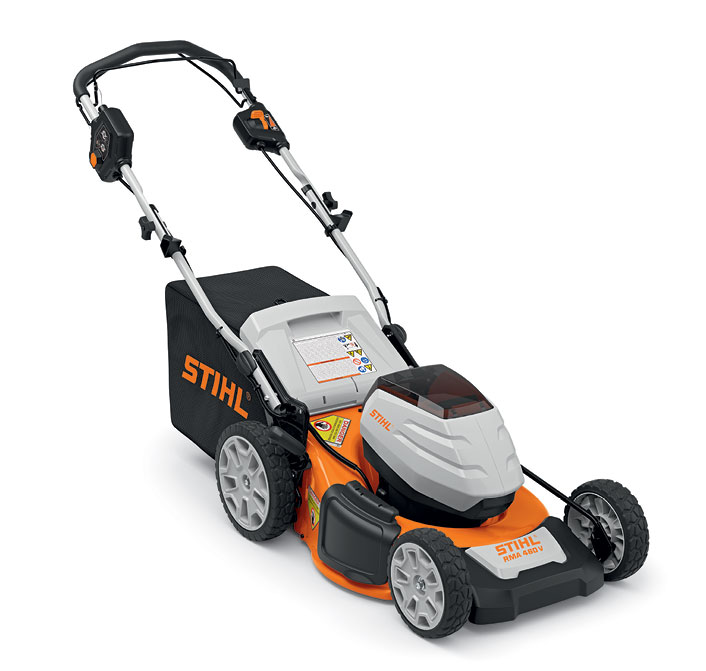 SPECIFICATIONS
Voltage
36 V
Weight ①
27.0 KG/59.5 LB
Unit of Energy
187 WH (with AK 30)
Cutting Width
18"
Cutting Height
1-4"
Battery Range
330-350 M2 (with AK 30)
① Weight without battery.
AK 30 BATTERY
The AK 30 is the most powerful battery in the STIHL AK System, providing up to 80% longer runtimes than the AK 20 and allowing users to get more work done on a single charge. This lithium-ion battery is lightweight at 2.9 lb and features a good power-to-weight ratio using 36 volts.
AL 101 CHARGER
The AL 101 charger delivers fast recharge times and a range of additional convenience features. The AL 101 battery charger also shuts off automatically after the battery has been fully charged, ensuring your energy costs stay lower and your STIHL batteries stay cool. There's even an onboard indicator light showing the current charging status. The charger can also be wall mounted, saving countertop space.
BATTERY CHARGING TIME
AL 101
AK 30
160/205 MIN
NEW
RMA 510 V
BATTERY SELF-PROPELLED
LAWN MOWER

The RMA 510 V self-propelled lawn mower gives users the performance of a gas-powered mower without any of the hassles. Enjoy instant starting, less noise and zero exhaust emissions. It features a 21" deck and 75 L grass catcher, so you can cover more lawn faster than previous models. The RMA 510 V also includes a holding slot for a second battery, so you can swap batteries and be ready to cut again in seconds. It also features an adjustable handlebar and larger rear wheels for rough terrain. The energy saving ECO mode option helps to conserve power when not required. The RMA 510 V is ideal for medium to larger-sized properties.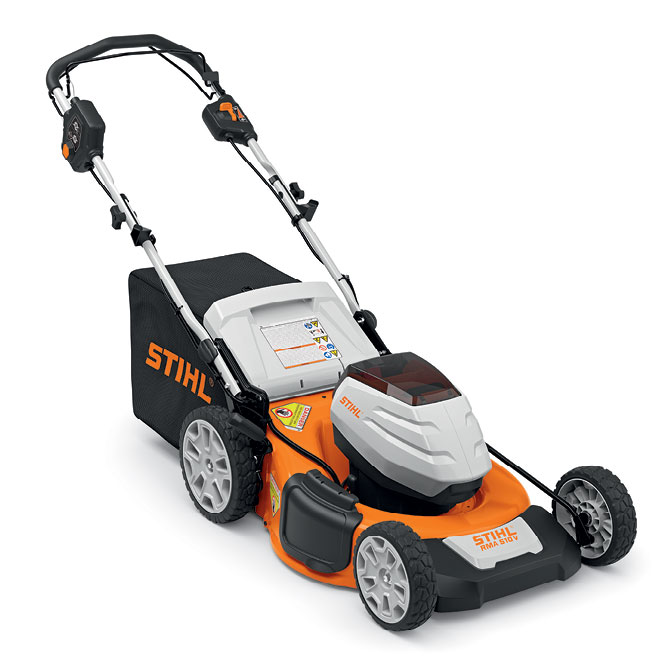 SPECIFICATIONS
Voltage
36 V
Weight ①
29.0 KG/63.9 LB
Unit of Energy
227 WH (with AP 300)
Cutting Width
20"
Cutting Height
1-4"
Battery Range
330-350 M2 (with AP 300)
① Weight without battery.
AP 300 BATTERY
The AP 300 lithium-ion battery offers greater battery capacity to cover your needs for the bigger jobs. It features a 25% increase in battery capacity over previous models equaling up to 25% longer runtime.
AL 300 QUICK CHARGER
Your advanced STIHL battery-powered equipment deserves an equally advanced charger. The AL 300 quick charger fits that bill perfectly. Designed to charge your STIHL lithium-ion batteries quickly, so you can power through your lawn care tasks. It features an onboard cooling fan and bright LED light to indicate current charge level. This smart charger even switches off automatically once your battery is fully charged.
BATTERY CHARGING TIME
AL 300
AP 300
45/60 MIN
Battery Power. Made by STIHL.