Spring 2020
Most powerful battery chain saw made by STIHL
NEW
MSA 220 C-BQ
BATTERY CHAIN SAW
The MSA 220 C-BQ is the most powerful STIHL cordless chain saw to date. Perfect for landscapers, forestry workers and loggers – the MSA 220 C-BQ is an ideal choice for wood care, small-sized timber felling, limbing, clearing young trees, timber construction, firewood sawing and use alongside a chipper.
The MSA 220 C-BQ has fantastic performance when used in conjunction with the AP 300 S battery. With a chain speed of 24 m/s, the EC motor allows for fast acceleration of the saw so chain speed can be quickly picked up when needed. Tensioning the chain is easy and can be done without the need for a tool. It uses a 12", 14" and 16" full chisel ⅜" PS3 chain. The MSA 220 C-BQ is ready for any challenge.
SPECIFICATIONS
Voltage
36 V
Weight ①
3.7 KG/8.2 LB
Unit of energy
281 WH (with AP 300 S)
Bar Length
12", 14" & 16"
Battery RunTime
up to 45 MIN (with AP 300 S)
① Weight without battery.
AP 300 S BATTERY
The AP 300 S is a high capacity battery that will power any tool within the STIHL AP cordless system. With an energy capacity of 281 Watt-hours (which relates to runtime), this battery offers an impressive 25% increase in capacity compared to the AP 300. With an Amp-hour capacity of 7.8, this battery will consistently power AP cordless tools for longer periods of time. The four LED lights let you know how much charge is left within the battery.
BATTERY CHARGING TIME
AL 300
AP 300 S
55/70 MIN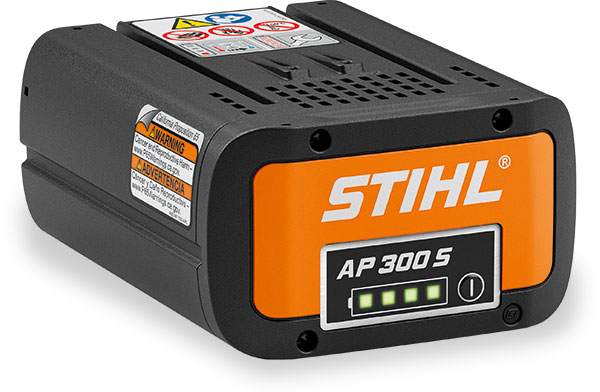 Battery Power. Made by STIHL.