Spring 2013
Strathmore has been committed to being industry leaders in sustainable landscape management since 2007. We have been working closely with our commercial clients as they have sought out such prestigious distinctions as LEED and BOMA Best. These awards recognize environmental stewardship and sustainable building management practices. Our partnership with our clients inspired us to create zero-emission landscape maintenance teams.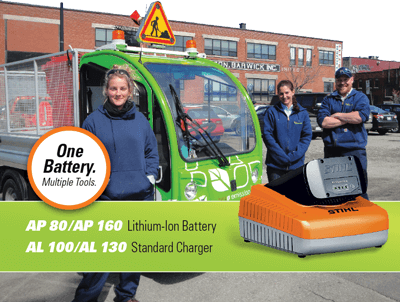 The first Strathmore Zero-Emission team was launched in April 2011 and a second team in April 2012. These teams serve our urban commercial clients; property size ranges from 1,000 to 50,000 square feet within a 10 km radius. Our commitment was to run a team that was carbon neutral without compromising the level of high quality service for which we are known. We were able to find local suppliers for some of our major needs: battery-powered utility vehicles and composting services. Trained horticulturalists were recruited to lead these two-person teams. The biggest challenge however, was going to be finding commercial-grade power tools. We would not compromise our service by using tools that were less powerful or less efficient than our previous standard.
The timing could not have been better. In April 2011, STIHL launched the Lithium-Ion Battery Pro tool series. We are long-term STIHL clients and all of our standard maintenance teams are outfitted with STIHL tools. Given our experience with STIHL, we were confident in the products they were putting on the market. We initially purchased the hedge trimmer and grass trimmer from the battery-powered series, and we were quick to add the blower as soon as it became available. We were very happy to be able to purchase these tools from the same equipment dealer we have worked with for many years.
Our Zero-Emissions crews are now each equipped with six sets of batteries that they charge at the end of each shift. Each set of batteries can provide our crews with about 40 to 60 minutes of working time. The tools run consistently for the duration of their charge. A flashing battery indicator warns the crew when there is less than a minute of charge left. During a typical workday, the crew will go through three sets of batteries. During hedge trimming time, all six sets of batteries get used by the end of the day. We discovered that we could complete large scale, precision hedge trimming work with the battery-powered tools at the same level of efficiency and quality that we had previously experienced with gas-powered tools.
Because of the weight of the batteries, the tools are heavier than standard equipment. However, some members of our team use the STIHL battery belt to transfer the weight of the batteries onto the hips allowing for more ergonomic operation.
A key feature of the STIHL battery tools is that the batteries are interchangeable. Since our Zero-Emission vehicles are compact and do not have the room to carry more than they need, having the same set of batteries work with all three tools gave STIHL a big advantage over similar products that we considered. We aim to standardize our equipment as much as possible, so having a single model of batteries and chargers in our shop helps minimize morning and afternoon down time.
When launching the zero-emission maintenance teams, we were prepared to see a drop in our crews' efficiencies. We were willing to make that investment, because the teams would have other benefits, notably environmental stewardship in line with our clients' requirements. We were surprised at the end of the year to see that every property on our Zero-Emission routes was serviced more efficiently than it had been previously.
by Jessica Milligan of Strathmore
Strathmore Landscaper from Montreal, QC