Fall 2019
In the post-war years, STIHL masters the crisis. Personnel changes also occur: Andreas Stihl's children join the company and guide it to more growth.
After the war, Andreas Stihl is confronted with difficult challenges. His trustee, Karl Gutjahr, is able to restart operations at today's headquarters in Waiblingen-Neustadt in 1945, but just 80 of the previous 500 employees are still there. The saw business is in a slump because people are repairing used tools and not buying new ones. STIHL is in a crisis.
STIHL works its way back to success with highly motivated employees, some of them from the founding years, and with new products. The legendary "Lightning" model is launched in 1959. STIHL achieves double-digit revenue growth with this gearless gasoline-powered chain saw.
The entry of Hans Peter Stihl and his sister Eva into the company is at first unremarkable, but is later highly formative for its entire further development. In 1960, Andreas Stihl, now 64 years old, changes the form of the company to a limited partnership (KG) and includes his four children with equal shares as limited partners. STIHL now has 640 employees and generates revenue of approximately 25 million deutschmarks. Operations at the factory still requires a high degree of manual work, but the rapid growth – two new plants are already under construction – requires a new approach. The siblings Eva and Hans Peter Stihl want to restructure the firm and to create a modern industrial company. Major steps in this direction are the expansion of the production facilities and the development of a sales organization. STIHL makes a start in this direction with a sales branch in Austria.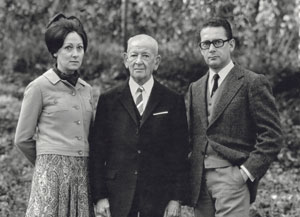 1959
THE "FATHER OF THE CHAIN SAW"
Hans Peter Stihl and his sister Eva gradually gain experience in important positions. They consult their father on all major decisions. After his death in 1973, they take charge of business operations. Their brother, Dr. Rüdiger Stihl, joins the company in 1978. Gerhild Schetter (née Stihl) is also a limited partner.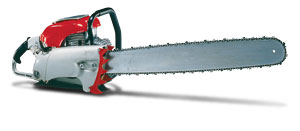 1959
A SAW TRAVELS AROUND THE WORLD
The "Lightning", a gearless gasoline-powered chain saw, revolutionizes forestry work. A 12 kg (26 lb) and 6 horsepower chain saw, it is lighter and more efficient than all other products on the market. Forestry operations can increase their productivity by up to 200 percent.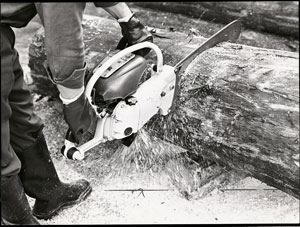 1964
CONTINUAL INNOVATION
STIHL is the first manufacturer to equip its chain saws with an anti-vibration handle in 1964.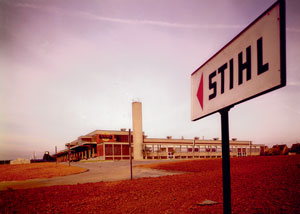 1965
QUALITY FROM A SINGLE SOURCE
In 1965, an ultramodern plant for the production of saw chains and guide bars is built in Waiblingen-Neustadt. STIHL continues to produce these components itself to this day.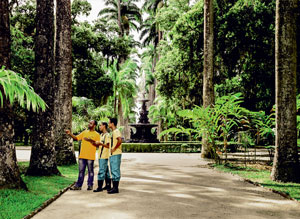 SOCIAL COMMITMENT
Today, STIHL supports social, environmental and cultural projects around the world, such as the "Pró-Florescer" project in Rio de Janeiro. In the city's botanical gardens, young people from precarious backgrounds are able to undertake occupational training as gardeners.