Fall 2018
I am not even sure where to start and how to thank STIHL Canada for the support in the shaping of this new event "Carve Cape Breton".
Back in April, my husband and I talked about organizing a carving weekend because our son Marc Timmons (Sawmarcs) is a young chain saw carver and does not often have the opportunity to share the fun and the learning in carving with fellow carvers. We decided to approach a local resort, Dundee Resort and Golf Club, to see if they would be interested in working with us to host a carving weekend for a few carvers. After contacting two carvers that Marc had carved with in the past, to ask if they would be interested, "Carve Cape Breton" began to come together.
My first contact for sponsorship was STIHL Canada, which I have had the pleasure of dealing with in the past. When I emailed to ask for support providing the details and information about our new event, STIHL was quick to confirm that they would support this venture. STIHL went above and beyond for us.
The event was held on July 13 and 14 , 2018 at the Dundee Resort and Golf Club in Dundee, Cape Breton. An event like this is not successful without sponsorship and great volunteers, and we had them both. The donated blower was used as a major door prize, so we could get an idea of how many people attended the event. The hats and keychains were worn by all our volunteers and passed out to people over the two days of the event. It was very successful and plans have begun for next year.
Here are the three featured carvers that displayed their ability and art. All three are committed STIHL users: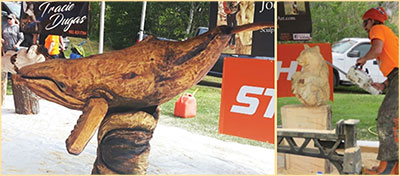 Joel Palmer (aka Swamp Bear) is a Canadian chain saw artist currently living and working in Browns Flat, New Brunswick. He has won two Atlantic Canada Sculpting Championships and has competed with professionals from all across Canada.

In 2016, Palmer won the People's Choice award at a prestigious national sculpture competition with artists of varying mediums. In 2017, he won gold with Team STIHL Canada in Eibau, Germany.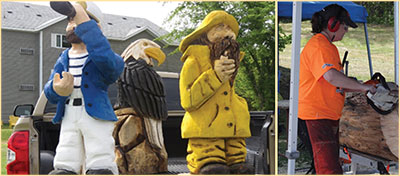 Tracie Dugas, who's been carving for over 20 years, is a chain saw carver from Clare, Nova Scotia.

Dugas has performed several live demonstrations at the Outdoor Sports and RV Show in Halifax, Saltscapes, Harvest Meets the Holidays in Truro, Tall Ships Festival in Digby, and a wood carving competition in St. Andrew's, New Brunswick. Some of her pieces have made it around the world in places as far as Australia.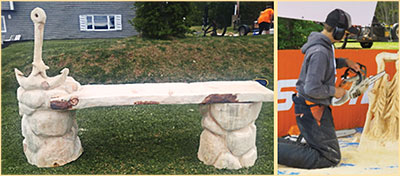 Lastly, Marc Timmons (aka Sawmarcs) is a young and progressing chain saw carver from Port Hawkesbury, Nova Scotia.

Timmons developed an interest in chain saws at a young age and purchased his first at the age of ten. While vacationing in Campbell River, British Columbia, he was exposed to the art of chain saw carving. He started carving at the age of 10, and now at 13, he has three years of experience under his belt. He has created many pieces such as bears, eagles, fish and owls which he has sold, traded and used to assist others in the community.
THANK YOU STIHL CANADA!
by Daunette Timmons
Event Organizer