Spring 2019
Andreas Stihl develops his first chain saw and manufactures the components himself. He exports to international markets from an early stage and he trains his skilled workers himself. STIHL continues to build on these principles today.
When Andreas Stihl opens his engineering office in Stuttgart in 1926, forestry work is still hard and difficult. Trees are felled with an axe or handsaw and then transported to sawmills. Only there are chain saws used.
Stihl graduated in mechanical engineering before starting his own business as a dealer for wood-processing machines, so he often visits sawmills. One day, he has an idea: The saw should be carried to the tree, and not the tree to the saw. He thinks more and more about designing a transportable, powerful chain saw. This idea ultimately leads to a product.
The first chain saw from the "A. Stihl Engineering Office" is a two-man electric saw. The first gasoline-powered saw follows in 1929. As the suppliers cause him technical problems, he manufactures the parts himself. Success is not long in coming: As he says himself, the saws are "grabbed out of his hands".
In the following years, he regularly launches new models on the market. The small engineering office turns into a sizeable factory. A major relocation takes place: from the centre of Stuttgart to the more industrial suburb of Bad Cannstatt. Business at first goes well, even during the Great Depression that starts in 1929. The inventive businessman offsets falling sales of chain saws in the early 1930s by producing washing machines for example. His first exports are also good for business.
Andreas Stihl prioritizes the export business and enters new markets in the United States and Canada. Then, the Second World War starts. The factory in Bad Cannstatt is completely destroyed in an air raid in October 1944. The Allies detain Andreas Stihl for a while in a labour camp in Bavaria. However, he is discharged in a trial before a denazification tribunal.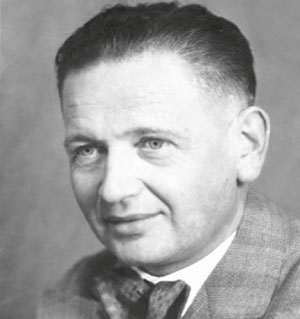 1926
THE "FATHER OF THE CHAIN SAW"
Andreas Stihl develops his first chain saw in his small workshop in Stuttgart.

1929
LIGHTER, BETTER, HANDIER
The first two-man gasoline chain saw (46 kg / 6 hp) eases forestry work considerably.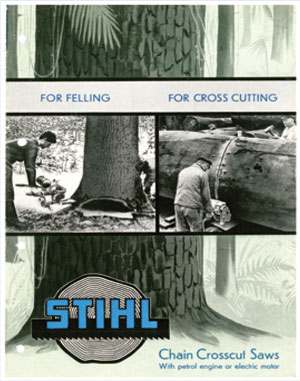 1937
A PIONEER OF GLOBALIZATION
STIHL exports to the United States and Canada as of the mid 1930s.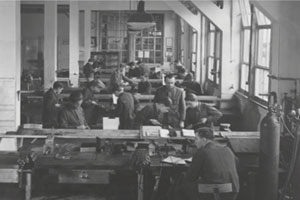 1940
"I AM A STIHLER"
The company's own apprentice department with workshop is set up in 1940.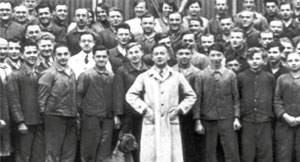 1941
FOCUS ON THE WORKFORCE
By 1941, Andreas Stihl employs 340 people. Even then, the employees benefit from a Christmas bonus and a pension fund.