Spring 2018
Understanding Diamond Wheels
STIHL diamond wheels are available in 3 different classes: Economy, Quality and Premium.
Economy wheels (B 10, A 5) offer good cutting performance and lifetime at an affordable price.
Quality wheels (B 60) offer better cutting performance and a slightly longer lifetime.
Premium wheels (SB 80, BA 80, A 80, D-G80) have much faster cutting performance and an extremely long lifetime. This is why they are the most expensive wheels in the STIHL line-up.
The difference between the 3 classes is the number and quality of diamonds in the cutting segment compound. Essentially, more diamonds will translate into faster cutting performance and longer lifetime. STIHL Premium wheels also offer higher quality diamonds in addition to the greater number of diamonds in the cutting segments.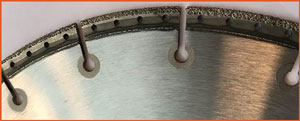 D-G80 Cutting Wheel
14", D-G80
0835 070 7000
Designed for cutting ductile iron
14" (350 mm) diameter
High cutting speed
Long lifetime
For use with TS 420, TS 500i and TS 700