Spring 2018
The NEW backpack battery AR 1000 has even more staying power. This powerful lithium-ion battery from the STIHL PRO cordless system has an energy content of 626 Wh – and together with the comfortable carrying system weighs a mere 5.5 kg (12.1 lb). The connection to the power tool for all the batteries is simply via a connecting cord into a socket on the unit. It is also equipped with a USB port to charge a cell phone.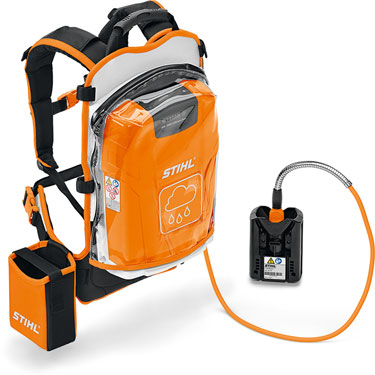 | | AR 1000 |
| --- | --- |
| Voltage | 36 V |
| Battery Power | 626 Wh |
| Battery Weight | 4.1 kg/9 lb |
| Charging Time | Up to 120 min (with AL 500) |
The STIHL AR 3000 backpack battery delivers exceptional runtimes to professional landscapers and those with large acreage. Lightweight, comfortable shoulder straps, hip belt and chest strap distribute the weight evenly reducing operator fatigue – are all benefits to this specially designed backpack battery. Also, the operator can use the LED indicator lights to check battery charge status before starting a job. No more running out of power halfway through the job.
Longer running time for all STIHL cordless machines due to greater capacity
Compatible with all STIHL professional cordless units (with the exception of lawn mowers)
Harness system features back plate for improved comfort
Accessories available for customizable use within the STIHL lithium-ion system
Cable and detachable rain cover for all-weather usage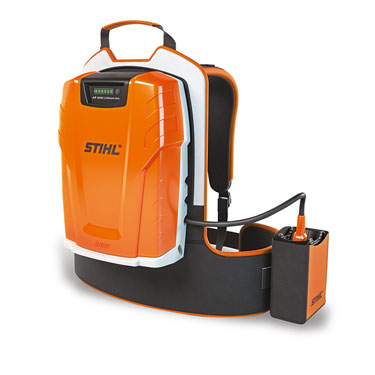 | | AR 3000 |
| --- | --- |
| Voltage | 36 V |
| Battery Power | 1,148 Wh |
| Battery Weight | 6.8 kg/15 lb |
| Charging Time | Up to 160 min (with AL 500) |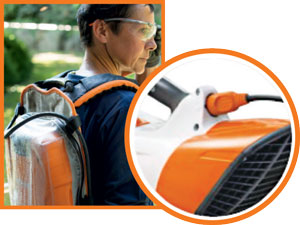 Tools With a Connecting Cable
The connecting cable with a plug connects the STIHL AP or AR batteries with the tool. This means that the battery can be worn on the body to reduce the weight of the tool.
What Can You Do on a Single Charge?
True battery power is measured in watt-hours not voltage!
Watt-Hours (Wh) is the actual specification that will determine the amount of work that can be done over the course of an hour.