Spring 2018
Tackles Anything
The environmentally friendly FS 91 R is ready to deliver all of your trimming demands. With its larger fuel tank, the FS 91 R is able to run 30% longer than its predecessor. Every landscaper will be amazed by the performance and reliability that the FS 91 R has to offer. When you're out in the field all day, you require a starting system that is dependable and ready to go. Well, look no further…the 3-2-1 starting procedure and the stop switch with "standby" mode of the FS 91 R have got you covered. It also features an improved filtration system that allows an extended service life.
Large 710 mL fuel tank enables longer running times
Efficient filtration system that delivers an extended service life
Simplified and convenient starting procedure – Engage Choke, Pull, Open Throttle and Go!
Stop switch with "standby" mode – Always ready to go
Redesigned guard to reduce weight
Improved loop handle design to offer added comfort with fewer vibrations
Solid driveshaft accepts optional interchangeable attachments, granting end users flexibility on the job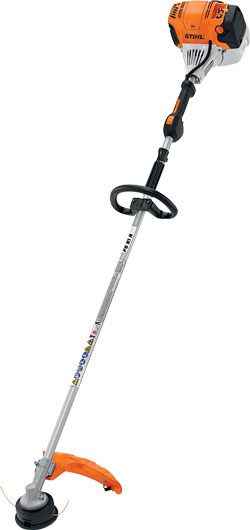 FS 91 R
Displacement
28.4 cc
Power Output
0.95 kW
Weight†
5.5 kg/12.1 lb
†Without fuel, cutting attachment or deflector.
Extremely Lightweight
Dependable performance meets variable speed control. The STIHL FS 94 R 2-stroke brushcutter delivers one of the best power-to-weight ratios in its class, weighing just over 10 pounds – great for manoeuvring around hills, landscaping stones and other terrain obstacles. Its innovative control handle features an ECOSPEED throttle set wheel, allowing you to set the most effective throttle speed for a specific application, such as low throttle around delicate plants. Combined with a high-powered, low exhaust emission engine and anti-vibration system, the FS 94 R is a great everyday landscaping tool for professionals.
Mid-range brushcutter for demanding professional landscapers
Powered by a low-emission 2-stroke engine with excellent power-to-weight ratio
Equipped with a variable speed control ECOSPEED throttle, which allows precise control of cutting speed
Features a simplified starting procedure – semi-automatic choke lever; hit the throttle and the lever returns to normal operating position
Fleece air filter offers extended life and long replacement intervals
Lightweight and compact design for comfortable operation over long periods
For use with nylon line heads and metal grass blades, STIHL PolyCut™ 20-3 and DuroCut 20-2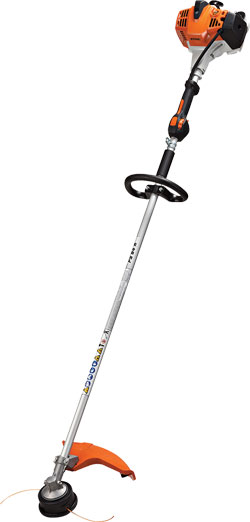 FS 94 R
Displacement
24.1 cc
Power Output
0.9 kW
Weight†
4.6 kg/10.1 lb
†Without fuel, cutting attachment or deflector.