Spring 2018
Homeowners can enjoy more time relaxing and having fun while the lawn is being beautifully manicured for them by the iMow® robotic mower. The lawn is mowed quickly and efficiently at the time most convenient for the homeowner. The guarantee of knowing that the grass will get cut, no matter how busy life gets, is a comforting thought.
Landscapers who purchase an iMow® robotic mower for their lawn mowing duties, will quickly determine how it provides them more time to perform other tasks on the job. They can rent or lease an iMow® to homeowners, as well as provide maintenance and store the iMow® during the off-season. It also provides the opportunity for them to acquire more contracts.
The STIHL iMow® must be installed and programmed by a participating STIHL iMow® Dealer. The iMow® maintains the lawn automatically and according to a desired programmable mowing plan. iMow® automatically returns to its docking station after it is finished mowing or when the battery needs charging.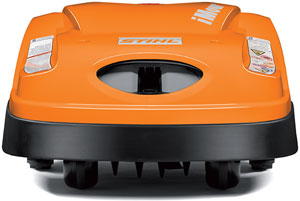 Fast and manoeuvrable for small lawns up to quarter acre.
The RMI 422 P iMow® is perfectly suited for small lawns, around pools, and even yards with slopes or a lot of corners. It can mow lawns of up to a quarter acre in just a few hours. It's particularly manoeuvrable and covers every last corner of a lawn, thanks to its compact dimensions and 7.8" cutting width.
Challenging Terrain?
Using its tilt sensors, iMow® adapts its speed automatically on uphill and downhill gradients, handling slopes up to 22 degrees.

RMI 422 P
Maximum Lawn Area (up to approx.)
0.25 acre
Average Mowing Duration (per week)*
17 hours
Battery Type
18 V
Battery Capacity
80 Wh
Battery Amp Hours
4.5 Ah
Average Mowing Time (per battery charge)
60 min
Average Charging Time
90 min
Maximum Degree of Slope
22°
Slope Percentage
40%
Cutting Height
0.75-2.25"
Cutting Width
7.8"
*Under ideal conditions, based on the specified maximum lawn area.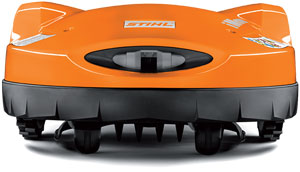 High performance for large lawns up to one acre.
The RMI 632 P iMow® can handle large lawns of up to one acre with ease. With its powerful battery and 11" cutting width, it can mow up to 150 minutes per charge.
Removable Control Panel
The removable control panel offers easy and comfortable programming without having to bend down to reach the controls. It can be programmed from the control panel when docked or when the control panel is removed.

RMI 632 P
Maximum Lawn Area (up to approx.)
1 acre
Average Mowing Duration (per week)*
40 hours
Battery Type
29 V
Battery Capacity
194 Wh
Battery Amp Hours
6.8 Ah
Average Mowing Time (per battery charge)
150 min
Average Charging Time
60 min
Maximum Degree of Slope
24°
Slope Percentage
45%
Cutting Height
0.75-2.25"
Cutting Width
11"
*Under ideal conditions, based on the specified maximum lawn area.
Advantages of a STIHL iMow® Robotic Lawn Mower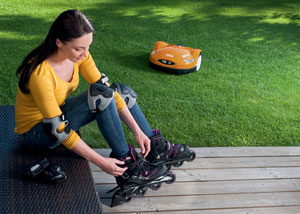 More Intelligence – A Mower That Thinks
iMow® has a fully automated mowing plan tailored to every yard. For example, if it's raining, the rain sensor tells iMow® not to mow and to catch up on the lost mowing time later in the week.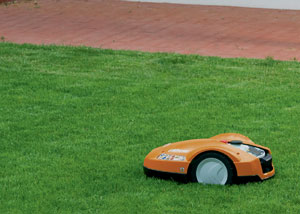 Maximum Flexibility During Charging and Mowing
To cover a large area in a short time, iMow® can recharge quicker and adjust its speed to suit the mowing conditions. For example, if it's taking the night off, it charges itself slowly, thus extending battery life.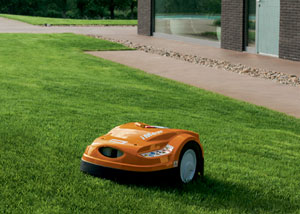 Mows Evenly Across All Areas
iMow® can be programmed to mow a variety of yard layouts in the front or back yard. It cuts several times a week so your lawn never has that "needs to be mowed" look.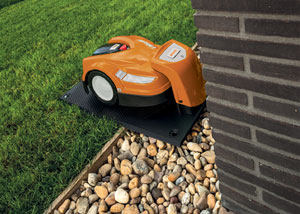 A Beautiful Lawn in Every Way
iMow® has an edge mowing option that results in a clean cut along the edges of your mowing area. You can also plan how your iMow® returns to the docking station by choosing between following the perimeter wire or making the journey to the docking station using a random pattern. The docking station is powered by an outdoor wall outlet.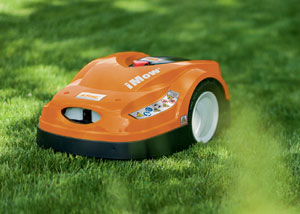 Greener, Healthier Lawn
iMow® is a mulching mower that finely shreds the grass clippings, returning them to the lawn as an effective fertilizer. This nourishes for a thick and healthy lawn.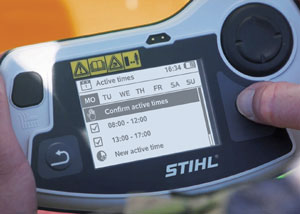 Safety and Security
iMow® is equipped with a variety of sensors. If someone attempts to lift or tip the iMow®, the mowing blade is designed to stop. The user sets a defined PIN in the iMow® menu, which cannot be changed, even if the battery is removed or the unit is reset.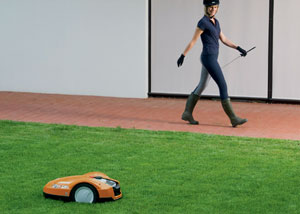 Quiet
iMow® mows so quietly, neighbours will hardly notice it's there. Plus, iMow® emits no exhaust emissions while working.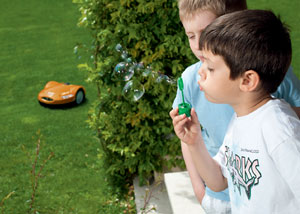 Allergy Relief
iMow® doesn't kick up dust and dirt like a tradional mower, which helps provide relief for people with allergies.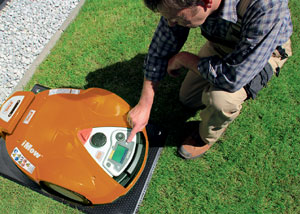 Dealer Installation
Right from the start, a STIHL iMow® Dealer will provide personal advice and professional installation.